TOKYO, March 12, 2111
Setsu Mori, Chief Editor of Magazine Alterna,  Alterna Corporation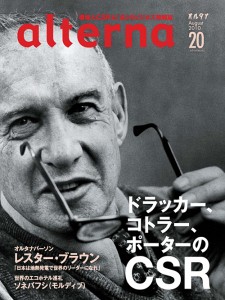 We are the only Japanese business magazine focused to environmental issues and CSR (corporate social responsibility).
As of March 12, about 15,000 people were reported dead or missing from the massive earthquake in northeastern Japan. However, the number of victims is expected to increase due to the tsunami that swept over villages and towns of Miyagi, Iwate and Fukushima prefectures located in northeastern coast in Japan
Meanwhile, the ongoing melting of the nuclear core in the Fukushima Daiichi nuclear power plant puts us in a critical situation.
The disaster of this earthquake will definitely be a crucial turning point for Japan. What kind of support can we extend to millions of people who are suffering?
Based on our hope to offer such support, we decided to launch the "Alterna Fund" project with the aim of joining "strong will" of you all who wish to help victims.
This project aims to deliver your thoughts and messages to the people in afflicted areas and communities in addition to raising money.
Please  Donate through "Alterna Fund"
Please send money to:
Alterna Fund Paypal account:    alterna@alterna.co.jp
Bank Acount: Harajuku Branch Office,  Seibu Shinkin Bank (#1341)
Saving Account No: 2098172
Also,  please send us your message to the people in disaster areas at alterna@alterna.co.jp when sending money. We will deliver your message through our magazine, or via Yahoo! News, Twitter, and Facebook.
Alterna will serve as a hub to deliver information about people and their needs.  We will serve as a hub by actively covering news on them on the alterna magazine, Yahoo!News, and alterna website. We will also deliver information via Twitter and Facebook.
We, alterna, are determined to make an all-out effort to help the victims in grief.
Total amount of donations for Alterna Fund as of July. 4th, 2011
10,610,010 JPN