Dear Alterna Readers,
I am writing this as I fly back (on donated miles!) to San Francisco following another whirlwind Tokyo visit. The Room to Read volunteers of the Tokyo chapter wasted not a minute of my visit, and my days were full of media interviews, meetings with potential and current corporate donors, and a successful seminar at Keio University. At Keio I spoke to over 100 business students. Students followed up with some suggestions for Room to Read in Japan, and have already initiated the founding of a Room to Read chapter at the university. It was a great group of young people, who will surely be leading the next Japanese generation of business leaders into creating new opportunities between business and non-profits.
The main event however, the one that the Tokyo chapter had been planning for months, was the Room to Read annual fundraiser. I would like to take space in this month's column to tell you about this, as it was an incredible evening that raised a large amount of money in one evening to fund Room to Read educational programs.
Amazingly the volunteers of the Tokyo chapter were able to secure the Academy Hills Library on the 49th floor of the Mori Tower in Roppongi Hills for this event, entitled "An evening in the Library with John Wood". The space is a large and plush private "members club" library, with floor to ceiling shelves of books (for this event the Japanese version of Leaving Microsoft to Change the World facing out of many of those shelves) and the lights of the city's skyscrapers below. Best of all, the event was free of charge for guests due to the generous sponsorship from corporations such as, Tokyo Star Bank, Citibank, Morrison and Foerster, Electronic Arts, White & Case and the Mori family. Although the Tokyo chapter is 100% volunteers, you would have thought it was a professionally coordinated event- that was how professionally they approached this fundraiser- from the printed invitations, to the slide presentations and the smooth flow of the program, nothing was unplanned, and as a result, it was a great party.
As waiters served donated Mumm Champagne and chardonnay, the standing room only crowd of over 325 elegantly dressed guests made their way into the event. It started with a slide presentation about Room to Read that I gave, with simultaneous translation by a very talented translator, who is a Room to Read volunteer. Live translation was important to me, as I wanted the message of education for the world's children to be as persuasive in Japanese as in English. Luckily the message did get through and by the time the live auction began, the crowd was ready and willing to bid. First we started with a few live auction prizes, including vacations, fine wine, and jewelry, to get the house warmed up. I knew from the first auction item (a specially designed Room to Read charm necklace designed by Millie Okada that will soon be available on the Shopping Channel in Japan) that this crowd was going to be warm supporters. Without pause we began the successful "program auction", where we sold Room to Read programs. How successful, you may ask? Well, let me start by providing a visual clue: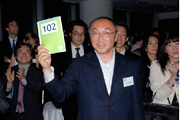 In this photo, Room to Read Tokyo chapter member Hiroshi Ogawa buys a school – one of the 6 auctioned off that night. We could have sold more, but this puts us in SOLD OUT status for 2008 schools. I was thrilled! Following that, we auctioned off libraries, and local language books.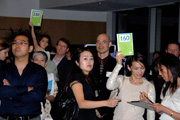 In the next photo you see the crowd's frenzied reaction. And how cute is that little girl raising her paddle to help other kids to get access to books?
But why stop there? "Who would like to donate $2,500 so that a girl can go to school for ten years? " Before I had even finished asking this question, at least ten paddles were in the air.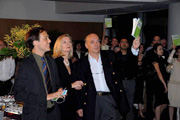 And more and more paddles kept being raised. We had 15, then 20, then 25, 26, 27, 28, 29 and 30. Yahoo!!!! I can not tell you how amazing it felt to watch 30 people raise their paddles to support Room to Grow, and to announce to the crowd that we'd just funded 300 years of girls education, or to put it in perspective, that is over 60,000 days that a little girl can go to school with Room to Read's support!
And now, drum roll please…….join me in congratulating the Tokyo chapter for hitting a milestone that only two other chapters have EVER hit… they raised over $500,000 in an evening! This is an amazing accomplishment, especially for a chapter that is just over a year old.
It is beyond my powers as a wannabe- writer to even begin to explain the extent to which Room to Read is taking off in Japan. The crowd at our event was at least half Japanese, which is great, as our goal has always been to reach the Japanese with our message. The local media interest is incredible, and we have a backlog of journalists wanting to write about us. Leaving Microsoft to Change the World has sold 40,000 copies in just over six months. Even more promising is that we have a very full pipeline of corporate prospects. I had meetings with Tokyo Star Bank, Stone Market, Mitsui and ABeam Consulting just to name a few. Just before the event, we had an official unveiling of an exciting tie up with Book Off. There is even the possibility of doing a Trek for Literacy specifically for Japanese donors, and the list of Japan related activities goes on. There is no stopping the Tokyo Chapter, and as long as they keep inviting me back, I will keep coming! The funny thing is that after the successful conclusion of the visit, I announced I would love to come back again at Christmas, and the volunteers looked a bit alarmed, I think they were thinking my next visit would be about 12 months from now! I guess that a lot goes on behind the scenes to orchestrate my Tokyo visit, but I do look forward to seeing the Illumination of Tokyo at Christmas time. See you then!
John Wood (Room to Read CEO)
www.roomtoread.org
和訳は本誌オルタナ9号47ページに掲載されています。