High Fashion Meets Education
What does high fashion have to do with Room to Read? A lot these days! This holiday season Room to Read has partnered with three luxury retailers at events which have contributed enough to build over eight pre-schools!
At Estnation Ginza our volunteers in Tokyo and New York collaborated on an all-Japanese event featuring Miss Universe Winner Riyo Mori. Guests received fashion tips from Hiroshi Morioka, participated in an auction that included a weekend at the Grand Hyatt in Hakone, a ski weekend in Hokkaido and a helicopter tour of Tokyo donated by Mori Building. Over 200 influential Japanese learned about Estnation's new Ginza location and donated used books for our partnership with Book Off that buys old books from donors and gives the proceeds to Room to Read. Everyone seemed to benefit at this event. The guests had an entertaining evening. Estnation gained new customers and sold lots of clothes. And Room to Read raised over 10,000,000 yen for schools, libraries and girls' scholarships.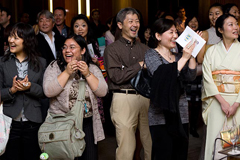 At a recent event at Gucci Ginza's Café, 100 guests who are graduates of major United States universities like Yale, Harvard, Princeton, and Brown gathered to learn more about Room to Read. Three winners of Miss Universe: Kurara Chibana, Riyo Mori and Hiroko Mima auctioned off a Day of Beauty that sold for 700,000 yen or almost the equivalent of two libraries! And Gucci generously donated handmade bags from Italy and a VIP preview of its Spring collection. It also gave Room to Read 20% of any sales during the evening. The event raised over 7,500,000 yen for a computer lab in India and a pre-school in Sri-Lanka, among other things..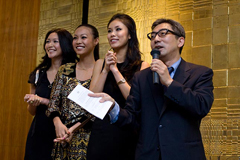 Why does a partnership between Gucci and Room to Read make sense? Gucci appeals to strong, independent, self-assured women. Room to Read has 6,500 girls on scholarship in nine different countries. With the life-long gift of education, these girls will grow up to be strong, self-reliant thinkers. According to research, a woman's income increases 10 percent for every year she goes to school.
Furthermore, Gucci is Unicef's largest supporter of education in Africa offering teacher training programs and HIV/AIDS education in Malawi and Mozambique. These programs complement Room to Read's programs in South Africa and Zambia helping kids on the African continent to learn how to help themselves.
And finally, I am really excited about our partnership with Matsuya Ginza! From November 4th till December 25th, Room to Read will have a small booth on the main floor of this prestigious department store only steps away Louis Vuitton. 500,000 customers a day will pass through Matsuya Ginza in December, and Room to Read will be there selling lapel pins, books and cute little yaks from Nepal where I started my first school. I plan to visit the store on December 6th to help the staff at Matsuya tell the Room to Read story.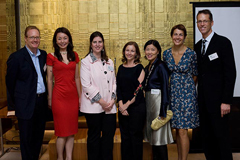 We hope to see you there too! .
Sincerely,
John Wood (Room to Read CEO)
www.roomtoread.org
Photo by Andrew Gray (Tokyo, Japan)
http://www.globaladventure.jp
http://www.photosensibility.com
和訳は本誌オルタナ11号40ページに掲載されています。